Editors Notes
Ronny Kobo's 'Kit' skirt has been tailored in their 'Floral Jungle' silk-blend jacquard and falls to an asymmetrical hem from a deftly tied waist. It has a deep slit along the side to reveal a flash of leg. Wear it with the matching 'Omilia' top or dress it down with a simple white tee and sandals.  
This item is part of a matching set
Fabrication
Fabrication: 52% Silk, 48% Viscose
Details & Care
Color: Floral Jungle
Care: Dry clean
Standard Clothing Sizing
Your shopping bag is empty.
MY WISHLIST
Your wishlist is empty.
Within the US
We offer ground shipping through UPS. Please allow 3-5 business days once orders are shipped.
Outside the US
All orders are shipped via UPS 
The international shipping costs will be calculated and guaranteed during the checkout and is calculated based on the service level, the number of items purchased, the weight of the items, the destination country and all applicable duties and taxes.
Duty (or customs tariffs) is set by the destination country customs authorities and is determined based on a combination of the country of origin or manufacturing of the merchandise purchased, the classification of the merchandise in accordance with a harmonized system adopted and used by the country and the Value Added Tax (VAT) rates set by the destination country. You will be able to view the guaranteed total amount of applicable duty and tax/VAT for your order at checkout.
Exchange Rate
Your order total is guaranteed at the exchange rate set when your order is placed. Foreign exchange rates are determined by UPS and are based on interbank rates of exchange. These rates correspond to the average aggregate exchange rates that would otherwise be applied in an e-commerce transaction.
Drop Us A Line
We're happy to answer any questions you have or provide you with an estimate. Just send us a message in the form below with any questions you may have.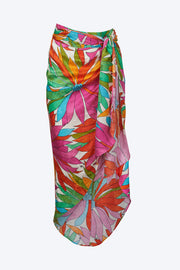 KIT FLORAL GATHERED SILK JACQUARD SKIRT